Podcasts in Review, Two
Benjamin Winter
2020-06-24
One of our most popular posts is Podcasts in Review by Eastern Orthodox poet Kenneth O'Shaughnessy. I now present this compendium—with its shamelessly-stolen title—by Roman Catholic non-poet Benjamin Winter. 😊 My qualifications? Since 2014 I've listened to podcasts for at least an hour each day. That's a bit scary when you do the math! They are my constant companions from car rides to laundry-folding sessions, and I fall asleep to them most nights. The recommendations I present here are the best of the best.
Serial
Okay, so this one comes first for a reason: It's the "podcast that gets you into podcasts." Season One of Serial is an engrossing true-crime story that will captivate and haunt you. Beware of listening late at night! Everything about its presentation—from the music, to the structure, to the extensive research that went in behind the scenes—is designed to draw you deeper into the mystery. There have also been real-world repercussions that are worth following.
While Season Two was a bit of a dud, Serial recently returned with a welcome genre-shift. Season Three chronicles one year in a Cleveland courthouse, investigating the ins and outs of our American criminal justice system. The patient, long-form investigative reporting is top notch; listening will help you grasp the connection between racism and sin. The stories they uncover simply by "posting up" in the courthouse reveal the best and worst of our society and its systems.
Reply All
Reply All may be the all-around best podcast. If you are at all interested in technology, or the ways the internet has changed culture, look no further. But if you care about humanity in general, and are captivated by excellent stories, you should also give Alex and PJ a chance. They truly are the renaissance men of the podcast world. They love to solve mysteries, and offer "super tech support" for unbelievably challenging problems like stolen identities, untraceable voicemails, lost photos, and scams of all sorts.
The most recent episode that blew my mind was The Case of the Missing Hit. After listening, I felt compelled to write the following: "I haven't derived this much pure joy from a podcast in a long while. A listener had a pop song stuck in their head and couldn't find anything on the internet. So our heroes rent a major recording studio, and a band, then recreate the song out of whole cloth … you've heard nothing like it!" Because this podcast is so eclectic, the best thing I can do is yell "LISTEN TO IT!!" and give you a list of 25 episodes (by number) that stuck with me: 2, 23, 30, 35, 44, 53, 60, 74, 77, 79, 86, 101, 102, 103, 104, 112, 114, 115, 121, 122, 130, 133, 145, 147, 158. If you liked these, check out their older podcast TL;DR, particularly episodes 8, 11, and 21.
Every Little Thing
Have you ever wondered what kinds of animals live on your face? How about who invented the lottery scratch ticket? Or what it feels like to return to earth after 11 months in space? Or how to get rid of an earworm? Come to think of it, what do dogs say when they bark? These are all episode titles from Every Little Thing, an almost overbearingly quaint podcast that seeks out beauty in the smallest things in life. If you're ever looking for a quick way to learn something new and reclaim some of the brilliance of the everyday, Flora is your host! As Chesterton said, may we be "strong enough to exult in monotony." Stay curious. 😊
Radiolab
Radiolab is absolutely brilliant and transportive. But only when Jad and Robert host (i.e. up until a few years ago). These older episodes are deep dives that lay out the essential paradoxes of our existence, and will certainly give you more than enough to think about. They are investigations conducted in the spirit of Robert's undying optimism, yet tempered and grounded by Jad's empiricism. Together, this duo helped me learn more than I thought possible about the universe.
My top episode recommendations are: Stochasticity, The Good Show, Lost and Found, Buttons not Buttons, David and the Wire, Playing God, CRISPR, Nukes, Match Made in Marrow, What's Left When You're Right?, Silky Love, Breaking News, 60 Words, Speedy Beet, Pass the Science, Mutant Rights, Wake up and Dream, A War We Need, Unraveling Bolero, What a Slinky Knows, Dark Side of the Earth, Solid as a Rock, and The Bitter End.
My Brother, My Brother, and Me
This is not going to be for everyone. But if you don't mind things a bit crass, there are no comedians who can beat these good, good boys. Whenever I'm feeling a bit down, or can't handle the gravity of the other podcasts I listen to, I always turn to Justin, Travis, and Griffin. There's really no way to describe their unique brand of humor … you simply need to experience it for yourself.
There's also no perfect place to start, but some of my favorite episodes are as follows (in descending chronological order – start with the newer ones): 511, 507, 506, 505, 500, 498, 477, 474, 472, 468, 447, 438, 432, 426, 424, 414, 409, 403, 394, 378, 377, 371, 362, 357, 354, 335, 332, 322, 305, 304. (I started listening around 300)
Also check out The Adventure Zone, by the same brothers & their dad, for one of the greatest stories ever told! And finally, if you're also into comedy and especially if you enjoy Star Wars and sci-fi, check out Mission to ZYXX, which is a close 2nd on my list for "funniest podcast." The brothers even feature on it from time to time! "Get down on the ground!" (And do start that one from from the beginning.)
Tales from the Lilypad
Having trouble putting your kids to sleep? Want a good, old-fashioned story that will engage their minds while also presenting them with a positive picture of the world? Tales from the Lilypad is a godsend! The narration is so smooth and calming, and best of all the level of detail on these children's stories is so intricate that it can keep an adult aptly engaged. I would call Marlene Wurfel the Wes Anderson of podcasts!
Other podcast honorable mentions include: Heavyweight, History of Philosophy Without Any Gaps, Homecoming, 99% Invisible, Reveal, The Ezra Klein Show, Intelligence Squared, Land of the Giants, Invisibilia, More Perfect, and Snap Judgment.
My favorite app (I use android) is Podcast Addict. There's a learning curve, so only use it if you like being able to customize everything. 🙂 Otherwise, just stick with Apple or Google's native podcast apps. Or there's always Spotify, which seems to be gobbling up everything else anyway.
What podcasts do you recommend? Please post in the comments below!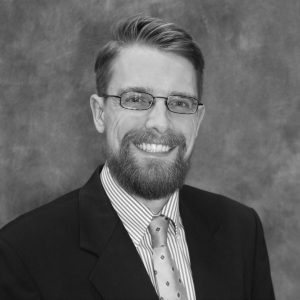 Benjamin Winter
Dr. Benjamin Winter is assistant professor of theology at Divine Word College. His research interests include scholasticism, Christian mysticism, science and religion, and philosophical theology. Before matriculating from Saint Louis University with a doctorate in Historical Theology, Ben completed a Master of Arts in Theology at Villanova University. His undergraduate degree comes from Truman State University, where he studied English and Philosophy. His interests outside the academy include creating electronic music, travel, swimming, science fiction, and podcasts of all sorts.